A famous U.S. author and physician, Oliver Wendell Holmes (1809-1894) once said, "Man's mind stretched to a new idea never goes back to its original dimensions." It used to be that a college or university was a place where people went to become more learned and get their minds stretched by hearing new ideas, or having their beliefs challenged.

Recently, at the University of Buffalo (in New York State), a mob of Leftist violently showed their aversion to having their minds stretched and hearing new ideas. The Young America's Foundation, a youth organization, dedicated to introducing students and student activists to conservative ideas through conservative conferences, speakers, campus lectures and initiatives, invited Former U.S. Representative, and retired Army Lt. Colonel, Allen West, to come and speak to students at the U. of Buffalo, to help stretch their minds.
I wish I could say that the scene that followed was shocking, but I would be dishonest. Unfortunately, this has become the norm at America's colleges and universities, particularly when a Conservative minded American Black person attempts to help inform and educate our youth.
The famous abolitionist, Frederick Douglass (1818-1895) knew a thing or two about the importance of freedom of speech, considering that he was born a slave, and had to risk his life to escape to freedom. He once said, "To suppress free speech is a double wrong. It violates the rights of the hearer as well as those of the speaker." He also understood that mental chains are far worse than physical chains.
The Left claims to love "People Of Color", but obviously that only goes for the "People Of Color" who are dyed in the wool Leftist. When it comes to those of us "People Of Color" who believe in freedom and liberty, they want to "put us back in chains".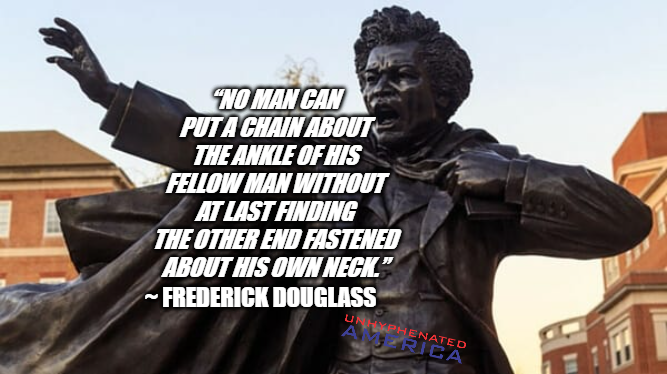 St Ignatius Loyola (1491-1556), the founder of the Jesuit Brotherhood, is quoted as saying, "Give me a child till he is seven years old, and I will show you the man." He was speaking of the importance of imprinting a way of thinking into a child from an early age. The brutal Communist dictator and founder of the Union of Soviet Socialist Republics, Vladimir Lenin (1870-1924) also said, "Give me four years to teach the children and the seed I have sown will never be uprooted."
The most important quote on training and educating children comes from the source of truth, the Holy Bible, where it says in Proverbs 22:6 (NKJV),
Train up a child in the way he should go,
And when he is old he will not depart from it.
It's obvious that we, who love freedom and liberty, have fallen down on the job, and taken our eyes off the proverbial ball, when it comes to training up our children in the way that they should go. What's also become abundantly clear is that Leftist targeted our children for indoctrination through our Public Education System several generations ago, and they have been extremely successful in their goals. If we want to maintain any level of freedom and liberty in this nation of ours, we are going to have to stand strong, and be willing to fight to take back control. The alternative is for this nation to descend into the sort of tyranny and chaos that happened at the University of Buffalo.